Do you want the secrets that make your man extend his arm to you in public?
The secrets that want him to let the world know you are with him?
Do you want to know the one secret to making him want to open and close the car door just for you? Without having to ASK??

How about him telling YOU this: "You are everything I ever dreamed for in a woman"
If you said YES, then this program is for YOU!
Not only am I going to share the same secrets that got my own Twinflame to DO ALL OF THE ABOVE --->>
I'M GOING TO SHOW YOU PROOF! I'm pretty private and that is important in relationship, however; I believe in what I teach because it works in my own life and seeing IS believing!
But, to see into our personal private life, private pictures, personal text messages, of PROOF of how I use these strategies to get results I just shared and more - with my Divine Masculine - you'll have to invest in your own relationship life first.
For now, here are some REAL client comments to what you will learn in this program!
Enjoy!
---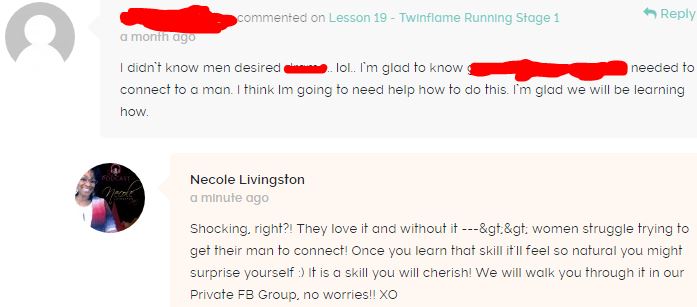 ---
Who Is This Course For?
This Course Is For The Divine Feminine or Woman But Open To Anyone Seeking Spiritual Love That Lasts!
*Anyone Seeking True Love but unsure how to Manifest It
*Anyone Struggling With Dating or Receiving Commitment From Their Partner
*Anyone Not Sure How To Get Results They Seek In Relationship
*Anyone Seeking Their Twinflame or Soulmate
*Anyone Desiring To Reignite The Passion In An Unfulfilling Relationship
*Anyone Desiring Emotional Connection But Not Sure How To Get It From The Divine Masculine or Men
*Anyone Doubting Her Own Power To Make Her Divine Masculine Fall Deeply In Love!
*Anyone Seeing A Married Man, In A Toxic Relationship, or any 3rd Party Relationship!
*Anyone Seeking Proven Strategies To Get The Relationship Before Having Sex!
*Anyone Seeking To Rekindle The Relationship With Their Divine Masculine Without Having Sex!
---
*49 Daily True Love Lessons and Techniques Delivered Directly To Your Inbox!
*Around The Clock Loving Support form our Private Spiritual Guidance Academy Community.

*And MUCH MORE!
---
Manifest Your True Love AND Make It Last With Proven Ancient Spiritual Techniques and Proven Relationship Strategies!
Manifest Your Destined True Love Reunion Today!
Love and first sight is real! That pull you feel? Real! The mistakes you make? Real too!
Here Are The Top 3 Mistakes Resulting In The Twinflame Running and The Pull Back!
(Value: 197 FREE Access)
In this program you'll learn exactly how to avoid this and ultimately create the space for your DM to run TOWARDS YOU!
Step Away from the Struggle Bus and Cruise into the Yacht and work YOUR OWN True Love MAGIC in Real Time!
Winter is fast approaching, Dear Love.....are you ready? Are you ready to be snuggled up or would you rather be alone? It really does depend on you, and either way is just fine as long as you're happy.
Because if you aren't really happy about your current Relationship Life, it's time for a change. This program has the solutions you need!
Let me ask you something...
---
Do you feel like you just have not received the type of Spiritual Love you deserve in a romantic relationship?
Do you still feel an extremely deep pull towards a particular person in your romantic life?
Does you ex keep popping back in your life no matter what you do to break the ties?
Do you question whether there is Divine Intervention to why this person keeps coming back?
Do you question whether or not your partner is actually your Twinflame or Soulmate?
Do you just have a feeling that there is something stronger pulling at heart strings? Like a lost love you have not even met yet?
Do you receive images of a person that just feels familiar as though you should know this person...yet you've never met or at least have no human memory of an encounter with them?
---
If you've answered "Yes" to any of those questions, get ready - your true love energy is already ignited!
Join our program and learn how to get the lasting commitment you desire!
Love and Blessings!
Necole XO